Wyoming Park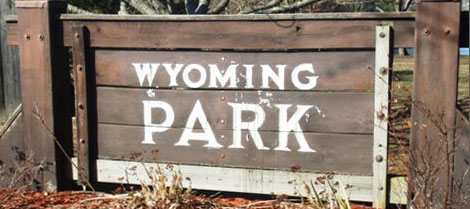 View the park park reservation calendar to book your next upcoming event.
The Town of Wyoming is proud to be able to maintain a park located on the banks of the Wyoming Pond. The park is open year round and is equipped with playground equipment, restrooms, picnic tables and grills, and a large pavilion. Park Bathrooms are seasonal from Easter to November.
The pavilion can be reserved for family functions, picnics, or other events. To reserve the pavilion contact the town hall to verify availability and complete an application. There is an administrative fee to reserve the pavilion; however, the park itself is open to the public free of charge.
The Wyoming Park is an alcohol free park. Any person caught with alcohol on park property will be removed and could face a fine.
Contact Number
302-697-2966
Wyoming Park & Pavilion Rules & Regulations
The Wyoming Park Pavilion may be reserved for special events such as weddings, family reunions, birthday parties, scouting activities, clubs or other types of organizational functions as determined by Park Manager(s). Reservations MUST be made through the Town Hall and Park Manager(s). Please be aware that you are ONLY reserving the pavilion, the park itself is still opened to the public.
We charge an administrative fee for the reservation of the pavilion; however, the rest of the park is open to the public at no charge.
ALL users of the park MUST adhere to the rules and regulations of the park. Those in violation may be asked to leave.
No alcoholic beverages are permitted.
No motor vehicles are permitted in the park.
No tow behind grills or smokers.
NO PROFANE LANGUAGE OR GESTURES.
No tow behind grills or smokers allowed.
No parking is allowed in the park.
No barbecue grills, cookers, or fires of any kind are permitted under the pavilion.
No decorations, signs, etc. may be tacked, nailed, stapled, or glued to the Pavilion. Tape may be used temporarily as long as ALL tape residue and decorations are removed. No use of silly string, water balloons or confetti.
No inflatable structures such as bouncy houses, pools or water slides will be permitted in the park at any time.
Pets must be on a leash and under restraint at all times. Pet waste must be picked up and properly discarded.
No pets are allowed in the children's playground area.
Children must be under adult supervision at ALL times.
Feeding any wild animal (squirrels, ducks, etc.) is strictly prohibited.
ALL games such as volleyball, badminton, horseshoes etc. must take place in the field away from the picnic and playground areas.
Fishing from the park banks is allowed if you have met ALL proper licensing requirements.
Please clean up after yourself!! We ask that if you use confetti, water balloons or silly string, please clean up the remnants before leaving the park. The pavilion is often reserved to more than one group per day on weekends. There may be someone coming in after you.
The Wyoming Park is a wonderful asset to our town and many enhancements have been made for the enjoyment of all that use it. Misuse of the pavilion or non-compliance to park regulations may result in individuals or groups being banned from further use of park and facilities or/and fined as well.
Enjoy your time at the Town of Wyoming Park!!!!