What's Happening
The Town Council Meeting that was postponed on Monday, March 3, 2014 due to the inclement weather will be held on Friday, March 7, 2014 at 6:00 p.m.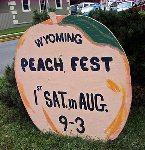 The Wyoming Peach Festival Committee is about to gear up for this year's Peach Festival on the first Saturday in August.  Anyone interested in helping out is welcome to come to the first meeting to ...
History of Wyoming, DE
The construction of the Delaware Railroad in the 1850s led to the establishment of the Delmarva Peninsula's first and most important north-south railway… Read More.